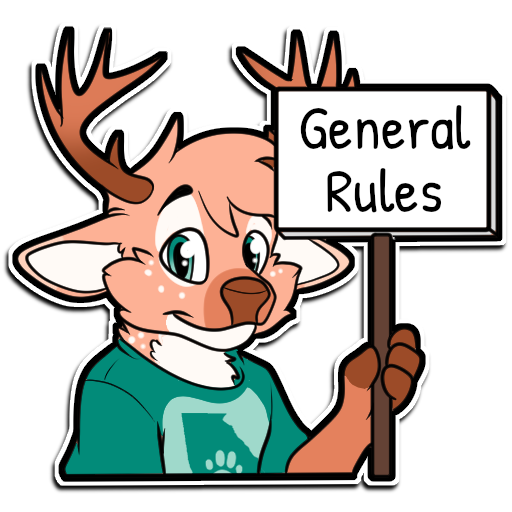 GeorgiaFurs Rules
GeorgiaFurs is an SFW Environment.

We strive to be suitable for the general internet audience. We welcome adults, we welcome minors–but understand that we are an internet community. This means that, as an internet community, there are certain leniencies and parental-guidance may be advised to minors.

TLDR: the Rule of Common Sense and internet etiquette

Some rules are subject to change as the community grows and evolves, or as issues arise that require ironing out. These are general guidelines and the admins will enforce them as needed.

What's Allowed:

Healthy IRL discussions, furry chatter, barks, mows, growls, hisses, roarks, squeaks, caws and other assortment of animal noises (especially Awoo).
Freedom of expression, to give their inputs, to interact and encourage one another, from furry to furry, person to person.
Posting pictures of recently acquired art. Show it off!

So long as it doesn't violate other rules. Credit the artist!

Asking for help in minor things such as school work, advice, etc.

You may be asked to move the conversation to PMs

Common sense
Good vibes!

What's not allowed

Explicit nudity, sexual content, kinks and fetishes, disturbing or gory images, links to explicit content or websites, and innuendos in any medium.

Epileptic or flashy gifs and videos will be removed out of concern for our sensitive users. Thank you for understanding.

Excessive swearing or cursing with harmful intent

Derogatory terms are included in this rule.

Excessive topics of alcohol, drugs, or criminal activity.
Questionable profile pictures and names, related to the previous points.
Spam/flooding with any form of media. This also includes IRL/Selfies, art, memes, gifs, stickers, links, etc. 
Using the chat like a personal diary or a meme dump channel. This is a social chat, so let's talk with others!
Political discussion is discouraged

Political discussion, despite some with informative intent, can be a quick downhill slide to argumentative discussion. We ask that we keep the conversation civil. Admins will have final say when enough is enough.

Hate speech, racial slurs of any kind, and offensive/foul language is NOT tolerated.
Other forms of profanities not suitable in the country.
Constant skirting around and referencing adult topics and content.
Excessive roleplay of any kind.
Inciting drama or inflammatory discussion.

There is no GeorgiaFurs NSFW/Adult chat.

Any alleged NSFW version of our chat is not directly affiliated with GeorgiaFurs. This includes side/friend groups created out of a branching meet-up or event from GeorgiaFurs. GeorgiaFurs is not connected in any way to any chat claiming to be a NSFW branch of GeorgiaFurs.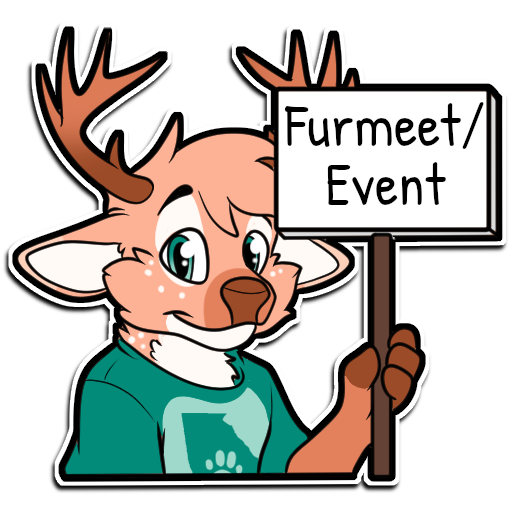 Furmeet/Event Rules
Furmeets and events may have their own set of rules that we must abide by.

Sometimes, furmeets and events are conducted by another local furry group/hub that we're promoting. If so, you must abide by their rules as well.

As furmeets and in-person events are usually "family-friendly", we ask that you refrain from using foul language, swears, and curses; especially around children. 

This would of course depend on the type of event and the host running it.

18+/21+ Events are possible! These mean that the event is prone to having content and references not appropriate for anyone under age, such as party games like Jackbox or Cards Against Humanity with adult themes, or having furmeets at a bar or house. 

Note: the 18+ events are NOT NSFW in the nature of activity and we won't promote an event of such nature.18+ events are specifically for adults only.

Minors/Dependent individuals: be sure to get parental/guardian permission before attending in person events. Although we watch each other as a community, do not assume that we'll be caretakers and will not assume any responsibility regarding any issues between you and the parent.
Always have readily available transportation! Make those arrangements BEFORE the meet!
Notice a problem? Speak up! If someone is making you uncomfortable in any way or you witness someone in an uncomfortable situation, speak up! Let the host know. We won't hesitate to pull someone aside to discuss the issue privately.
If one is found to be disruptive during any meet or otherwise in violation to any of the aforementioned and non-mentioned rules, they'll be asked to leave.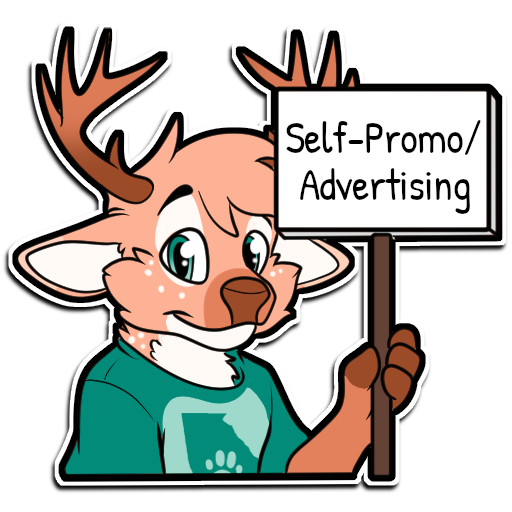 Self-Promotions/Advertising Rules
General Rules

Content creators are allowed to raise awareness for their content and share it on our respective platforms. It could be anything from artists, fursuit makers, streamers, music composers, and many more.

Note: Telegram and Discord have slightly different rules on advertising. Please see below for details.

If your content contains any 18+ material, be sure to let people know! We may take down your post and give you a private heads-up.
If you are not the person being promoted (in other words, you're promoting someone else), please ask for permission before posting.
We do not allow the promotion of other Discord server or Telegram channels unless approved by the admins. This includes personal links. 
Not following the rules above will lead to revoking your posting privileges in said channel, and may lead to removal of the server if there is persistence.

Telegram

Always ask an admin before posting your advertisement or self promo. 
Because Telegram is just one channel, we want to encourage it as a social chat, we don't want people's advertising to be too interruptive. However, given permission, any individual could promote/advertise themselves

Discord

Feel free to advertise on the channels #self-promotion (non-artists) or #gaf-dealers-den (artists)
Try to keep your pictures and description succinct! Our bot will auto-strike people who post more than 20 lines. If it happens, contact an admin!